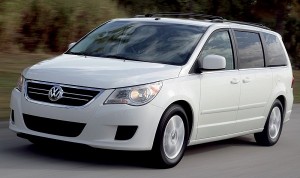 What is VW thinking? I've seen a lot of funny stuff from manufacturers but this is hilarious This is not a microbus but a Chrysler town and country minivan with a VW nose hung on it. Not only is the body Chysler stuff but the drivetrain also. I guess this is one way to make the minivan trendy.
Why couldn't VW's engineers come up with their own bus. (My own theory is that all the good German engineers already work for Mercedes and BMW, and there aren't any good ones left over.) Admittedly, Chrysler has got the minivan market down, and do build a pretty good product, but this global borrowing of everybodys stuff is making me woozy. With Ford transmissions made in Japan and Harley engines designed by Porsche, I guess it's not that much of a stretch to rebadge an old Dodge minivan. But why would VW cheapen their mystique on an old bus?
greg
p.s. I just saw septembers issue of Autoweek, and in it is an add with Brooke Sheilds touting the German engineering of the Routan. The only German engineering I see is the grill.
But it is a nice grill…