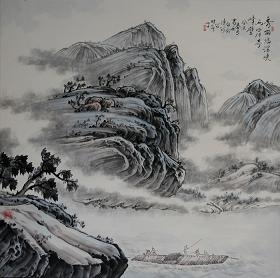 I was listening to a podcast this morning out of Australia on ancient Chinese history, on my way to work in southern Ohio, on my Japanese MP3 player in my Swedish car. (kinda global, isn't it…) The speaker was talking about acient Chinese landscape painters, and how they thought it below their dignity to be paid for their work. In fact, they thought it would make them mere vulgar craftsmen, something to be despised.
Also lately I'd been reading The History of the Ancient World, and the discussion of Ancient Greece, about 500 B.C. Chester Starr was relating the fact that none of the ancient Greeks would work for anybody. Even the lowest Greek on the totem pole scratching around on his plot of dirt was too proud to work for wages. His activity was aimed at getting together a couple of bucks so that he could buy some slaves to do all the work for him.
So what's up with that?
Seems to me, if it wasn't for all these vulgar craftsmen who did all the work, there wouldn't be any classical civilization, and all these guys would have starved to death before they got anything accomplished.
Maybe there is something wrong with me, but I like being a craftsman. I fix machines that have come to grief is some way or other and make them right again. And I get a check every week for doing it. And once you start fixing one kind of machine, you never stop there. You start fixing everything, cars, computers, cell phones… whatever gets in your way that's broken. It becomes a way of life. I can't stand not knowing how something works, and that does become problematic in this day and age, as even the engineers that think this stuff up don't understand it.
However, here's to the Chinese guy, I hope some vulgar guy makes him some paint!
greg