In an earlier post on the new Saab V-6 engine, I mentioned how GM and Saab were becoming packaging companies. One thing about modern cars, everything is jammed in there. I remember when they replaced the old Saab 900 in 1994… mainly because the engineers couldn't stuff anything else in it. It was full up. They were shoving control units under everyseat and kick panel till there was no where else to go.
My co-worker John put a Serpentine belt on one of the new V-6's today. Good Lord! I was talking to some GM engineers the other day and they were bragging that they had at least 6mm between the engine and everything else. I just measured my fingers and they are at least 18mm thick. Hopeless. They design them to build, not to repair.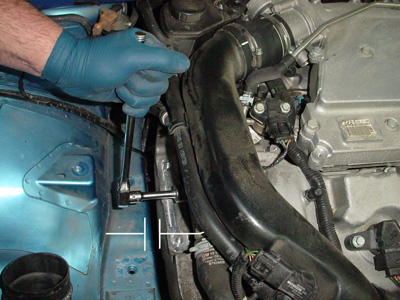 Note: the space between the lines is 6 millimeters, the belt is down that space.
Things you notice is that small things like hose clamps are faced to the frame. You can't get a tool on them because the engines were put together completely before being dropped into the car. The clamp was installed by some auto worker standing next to the motor, without a car in the way.
Well, I guess if this stuff was easy, they wouldn't need me to do it…
greg