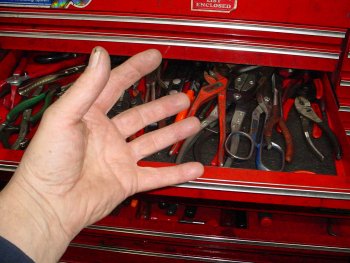 The one thing about being a mechanic is you need and accumulate tools throughout your career. Every year they introduce a new method to drive the humble screw, and of course you need a whole new set of tools to deal with it. And every year they build new cars with unaccessable items ( like oil filters) that need special tools to get to them. It never ends…
But there is one great tool that I have that can't be replaced and hasn't been updated. You've seen it in PDF's and Photoshop. You guessed it, it's the hand tool.
The hand tool is so good it can pick up stuff you can't even see. And the hand tool has the sensation of touch, so that you can see what you're doing without seeing it. The hand tool is covered in a skin like substance that is waterproof and impervious to a lot of chemicals. Sometimes the hand tool's skin like substance gets a little rough from the wear and tear, but there are gloves available to cover them, but they are never as good as the original skin like substance. If you use latex gloves, any oily bolt will defeat their grip. If you use leather gloves, any small nut or spring will defeat their grip. None of this stuff defeats the hand tool's original skin like substance.
The hand tool can adjust to grab any size tool handle, and they have great mobility, so good in fact that you can always get the hand tool into places you can't always get it out of. In sum, the hand tool is the best tool in the toolbox…
greg