I had to fix the boss's toy yesterday, a chinese go-kart imported by Manco in Ft. Wayne, Indiana. The boss wanted a new tire, a new kill switch, tuneup and all fluids changed. And he doesn't have any owners manual, etc, to go with it.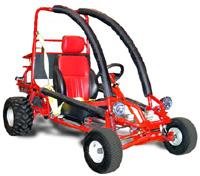 A quick internet search got me everything I needed. All the parts lists and repair manuals and anything you could possibly want to or need to know about this little machine are all wrapped up in PDF documents and free for the asking. Everything is available here.
Admittedly this is just a cheap gokart but why hasn't the car business done this? Manufacturers of all kinds of stuff do this for their customers, any kind of computer equipment has drivers and support info online. What do you get from Ford, say? Thousands of documents that don't pertain to anything useful.
I know, there is a large industry grown up around this need, and you're fooling with their jobs. You can get this information online, but at quite a cost. If you want online access to major american car info, it's about $2500 dollars a year. You can usually get a big paper manual on a specific car for one or two hundred dollars. That really is a lot of money, especially since the father of a normal family has about 4 or 5 cars laying around, and they all need to be fixed occasionally. And it's not like you didn't already pay a ton of money for these cars in the first place. But it seems to the manufacturers that your just paying to rent them not own them.
Anyhow, my hat is off to Manco for doing it right, and not to Ford or Chevrolet who want to keep their info to themselves and their clique.
greg