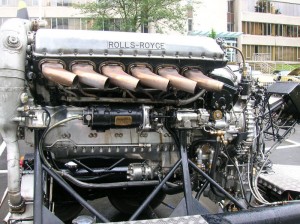 The Rolls Royce Merlin engine is argueably the greatest airplane piston engine of all time. It's what made the Spitfire (The iconic British fighter plane of Battle of Britain fame). During the 30's the Spit couldn't get accepted by the British Air Ministry, for the most part because of it's underpowered engine.. but the Merlin put it on the map.
The engine started out as a 1600 cubic inch, 1000 horsepower engine with evaporative cooling… not so great, but by 1943, with ample supplies of anti freeze from the Americans, and improvements in fuel octane and supercharger design, the engine was easily pumping out 2000 horsepower! And in fighter planes, faster is better…
One of the things that made the Merlin was it's reliability. It was said to be able to run at full power for 8 hours! This was undoubtedly due to Rolls Royce inventing quality control… they pulled engines off the assembly line and ran them at full power till they blew up, then took them apart and redesigned whatever failed.
This engine was deemed so important to the war effort that Packard in the USA was selected to build it also. The Americans redesigned some parts that didn't suit them, changed the bearing material, and more imortantly, added their own supercharger. They used a Wright 2-staged supercharger, added intercoolers and aftercoolers.. put it in a P-51 and turned out the best fighter of the war.
After the war, a lot of surplus engines and airframes were sold off cheaply… and started the whole air racing thing. Lot's of them are flying around today in restored P-51's and some P-40's, one P-51 based at the Tristate Warbird Museum just flew over yesterday…
greg