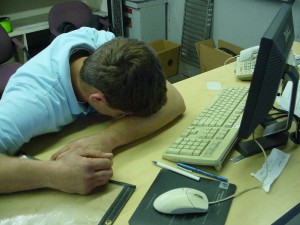 Poor Ben… He's was our clean up guy and all around gopher at a Cincinnati Saab Dealership. Now he's our parts guy, parts manager, the whole works. He's been a parts guy for 2 days now.
There isn't that much to being a parts guy, other than looking up the right part, producing it from a giant bin of shelves, and getting the right price logged onto the right program in the computer. So far he hasn't done so good, but on day 2, who can complain?
I started fixing cars straight out of the Army in '73. I needed a job and saw one in the paper. 'Mechanic needed, will train'. I had a small toolbox and a couple of hand tools, all the other guys in the shop had towering tool boxes with thousands of dollars worth of tools in them. They gave me a lift, pulled a car on it and said "fix it".
I did and have been doing it ever since. The same will happen with Ben. He might stay with it and might not, but the training will all be the same.
greg