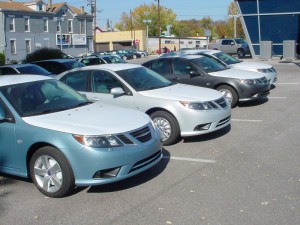 11/5/08
We just got a load of nine new Saabs… our lot has been empty for the last 3 weeks for the changeover, but now they're rolling out. Now all we have to do is sell them, I hope Obamo winds up the economy!
But this post isn't about that… It's about quality control. All carmakers have made giant strides in the last 10 years, but especially in quality control. I checked in these 9 cars we got this morning, looking for damage and any initial problems. How many problems did we have. None. And normally we usually don't have any problems. They all started, everything worked.. and nothing was falling off of them. The truck driver didn't even scratch anything.
It wasn't like that back in the eighties when I started working on Saabs. They would flood trying to start them. They rattled, stuff was left off, and when you prepped a car that was sold, you had to literally tighten all the bolts under the car! And the quality of a European car was much better than American cars of the time. Those guys in Chevy dealers were putting water pumps on cars before they were sold.
I guess it was the Japanese who brought everyone's game up. It's a good thing too. It's a pleasure to watch traffic go by and not see a rusty fender in the bunch.
greg