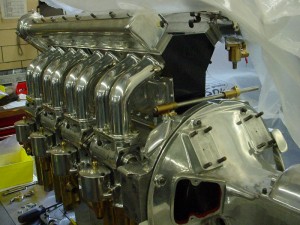 In the 20's Harry Miller built the most beautiful and fast racing cars of the era… won Indy at least 9 times, and Miller's spiritual offshoot, Offenhauser went on to do more of the same, dominating American open wheeled racing, until the 60's.
One of these cars is being restored down the road from our shop at Zakira's. It's really hard to say if this car is restored or new, as they have all Millers plans and jigs for the car. When it's done, it will be just as entered at Indy in 1922, but what a work of art. It's hard to believe you drive this thing, it should be on a wall at the Metropolitan Museum of Art. The pic above is the engine sitting in the Machine Tool room getting done up.
It's no wonder Harry Miller went out of business in the 30's. He spent way too much time making this thing look good.
greg